Vice-President Mike Pence will return to his home state today, making a speech that urges Congress to pursue tax reform that will help the middle class keep more of what they earn.
While Democrat Senator Joe Donnelly will be in attendance at today's event, Hoosiers would be wrong to think that he's one their side and fighting to cut their taxes. The National Taxpayers Union has given Donnelly an F rating on protecting taxpayers and fighting for tax cuts, going back to 2013: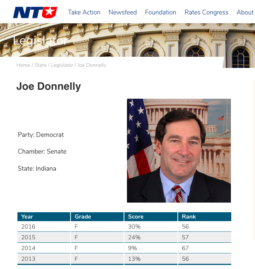 Even though Sen. Donnelly has made it a mission to fight for pet liberal causes and ignore the best interest of taxpayers, Hoosiers have made it clear that they want their elected officials to join President Trump and Vice-President Pence in pursuing tax reform. 68% of the state supports the GOP's plan and The President's 19-point victory in the state last November was a clear sign from voters that they want Washington to give them some tax relief.
Unfortunately, Joe Donnelly repeatedly is out-of-step with what his constituents want. Whether it's outsourcing Indiana jobs to Mexico or a history of fighting against legislation that would help taxpayers, he puts his liberal agenda before Hoosiers' priorities.